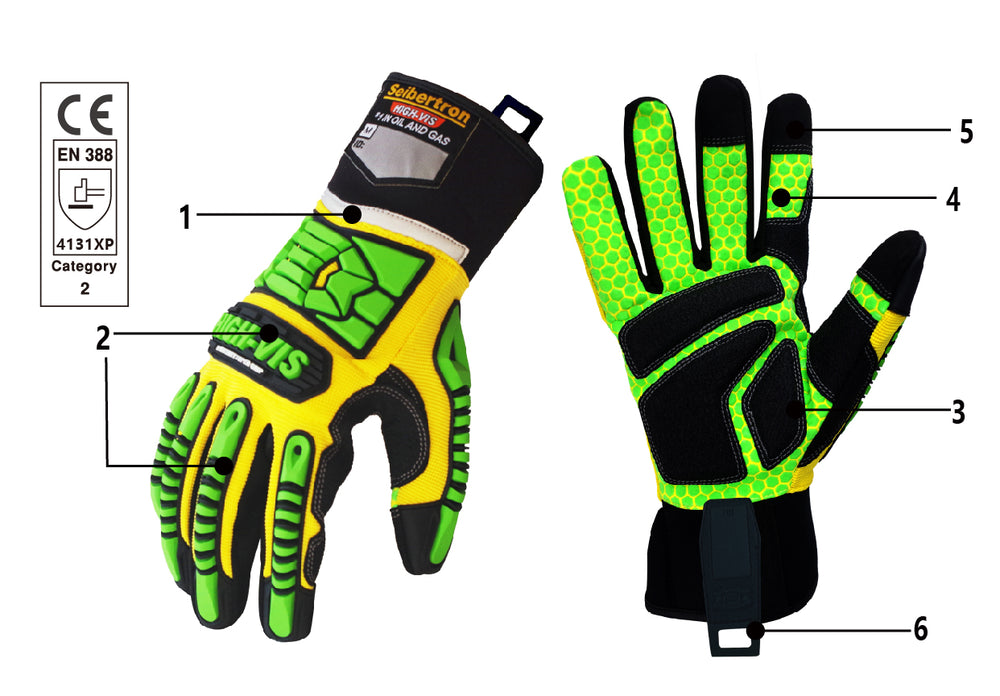 Product Description:
1. Reflective tape on the wrist and high visible color provides high visibility and safety during daytime and night working.
2. Multiple 3D TPR rubber design of hand back provide maximum protective area up to 90% which greatly maximize its anti-impact ability to the external kinetic energy.
3. The palm is filled with SBR and non-slip reinforcement, which makes palm's anti-vibration performance significantly improved and provides super grip power.
4. Palm material is using waterproof and non-slip silicone printing technology to provide excellent slip resistance throughout the palm.
5. Cuff puller design on the wrist helps to wear your glove in the proper position faster.
Features:
Choose the size by the left size chart image

SILICONE PADDED PALM, Shock absorption palm with ultimate grip on wet, oily surfaces;

EXCLUSIVE PALM MATERIAL, 28% more abrasion resistant than normal synthetic leather;

TOUCHSCREEN FINGER CAPABILITY;

HIGH-VIS METACARPAL PROTECTION, 80% impact absorption;

HIGH-VIS KNUCKLE PROTECTION, 90% impact absorption;

HIGH-VIS PENDING FINGER PROTECTION, 79% impact absorption offers sidewall and complete fingertip protection

CUFF PULLER, Get your glove in the proper position faster

Reflective tape on the wrist, Extended neoprene cuff,

HIGH-VIS palm and back of hand

Best use: Oil and Gas Drilling, Extraction and Refining, Fracking, Tool Pushing, Mining, Equipment Maintenance, Supervisor