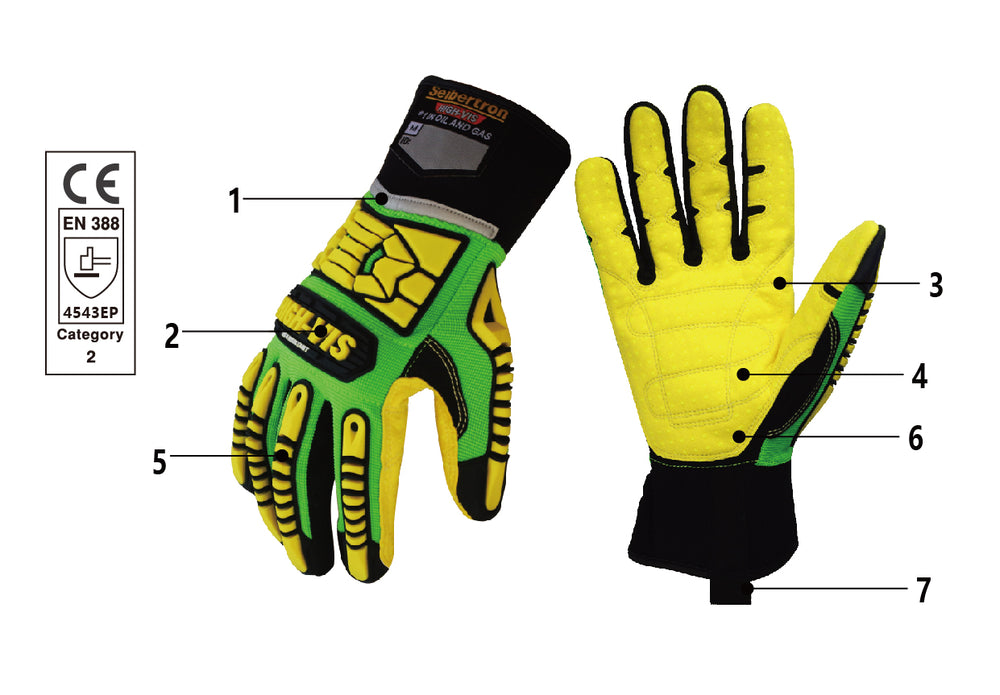 Product Description:
1. Reflective tape on the wrist and high visible color provides high visibility and safety during daytime and night working.
2. Multiple 3D TPR rubber design of hand back provide maximum protective area up to 90% which greatly maximize its anti-impact ability to the external kinetic energy.
3. Palm Dual Kevlar threads (cut resistant) stitching provides better abrasion resistant ability and longer service life than normal Nylon.
4. Super abrasion resistant palm material with PVC anti-slip dots and Teflon water resistant process make it highly abrasion resistant while providing excellent anti-slip and water&Oil resistant ability.
5. Extra slots on TPR finger protection provide excellent fingers bending dexterity
6. Cut resistant layer insert gives glove CE EN388 level 5 cut resistant and ANSI level 4 cut resistant capability.
7. Cuff puller design on the wrist helps to wear your glove in the proper position faster.

Glove clips:
The glove clip is nice and strong and holds onto the gloves so I don't have to worry about them getting lost while they are on my hip.
There is a swivel in the middle, so the gloves can rotate. This is a really nice feature since you may not always be able to grab a pair of gloves where the claw would lay flat. The gloves can rotate freely and lay nicely on your hip.
Features:
Choose the size by the size chart image

EXCLUSIVE CUT RESISTANT MATERIAL, CE EN388 level5, ANSI/ISEA level 4; 

EXCLUSIVE PALM MATERIAL, 28% more abrasion resistant than normal synthetic leather;

HIGH-VIS METACARPAL PROTECTION, 80% impact absorption;

HIGH-VIS KNUCKLE PROTECTION, 90% impact absorption;

HIGH-VIS PENDING FINGER PROTECTION, 79% impact absorption offers sidewall and complete fingertip protection

CUFF PULLER, Get your glove in the proper position faster;

Reflective tape on the wrist,

One-Piece Palm with dual Kevlar threads stitching,

Extended neoprene cuff,

HIGH-VIS palm and back of hand;

Best use: Cold weather Oil and Gas Drilling, Extraction Refining, Fracking, Tool Pushing, Mining, Demolition, Heavy Construction, Rigging