Regular price
$68.99 USD
Sale price
$68.99 USD
Unit price
per
Sale
Sold out
View full details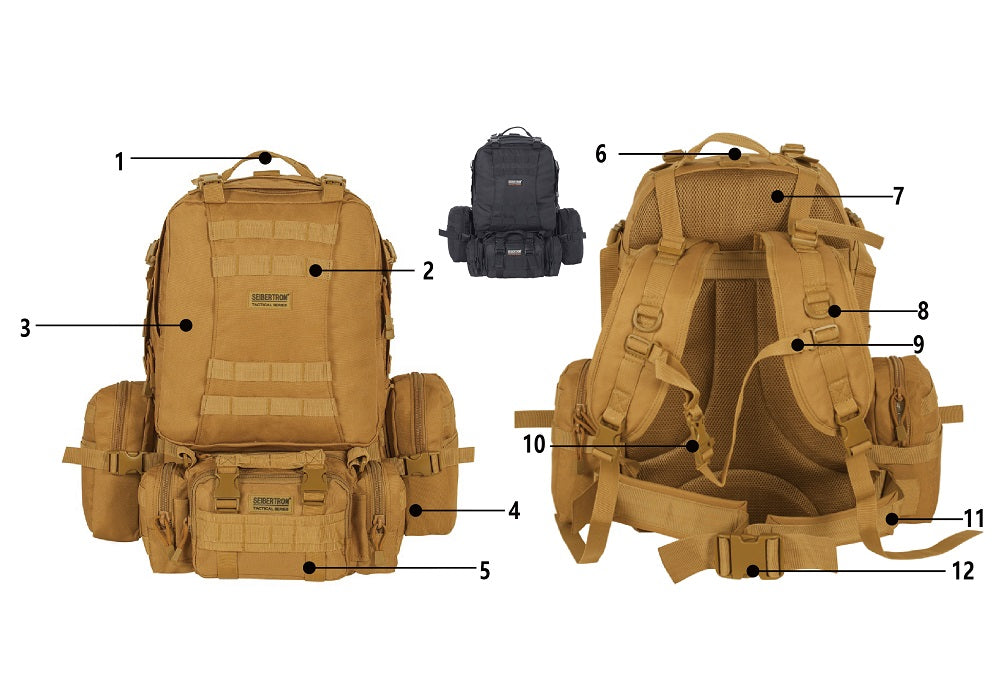 Product Description:
1. Quick grip top handle
2. The webbing system allows maximum loading.
3. Water-resistant Robust 900D Polyester with PU coating.
4. Removable pouches on both sides.
5. Removable waist bag on the front could be used separately.
6.  Fixed bladder tube outlet cover
7. Ergonomically fitted mesh padding on the back to offer excellent comfort. 
8. D-ring on both shoulder straps for attachment purposes.
9. Adjustable chest belt could fit wearer perfectly (maximum suitable for 60 inches bust).
10. Life whistle buckle is necessary when wearer needs to get attention to rescue people.
11. Adjustable waist belt for most comfortable fitting. (maximum waist circumference is 55 inches)
12. KAM buckle bites tightly, sturdy and durably.
13. The high functionality and easy accessibility of the Combination Bag make it an ideal companion for multi occasions. The ergonomic design works with your body to make it as comfortable as possible. Removable punches and waist bag offers flexibility to go. Adjustable straps fit your form. Spacious compartments designed for easy access for hydration bladder, devices, rain covers, documents and so much more.
Features:
waterproof 900D
main bag, External dimensions:20"(H) x 12"(W) x6"(D)
waist bag, Main Compartment: 6"(H) x 9"(W) x 3"(D) Front Pouch: 5"(H) x 8"(W) x 1"(D) Attaching part: 5"(H) x 3"(W) x 2"(D),Shoulder Belt:2"(W)
Side Pocket: 8"(H) x 5.5"(W) x 2.7"(D)
Package List:1 main backpack+2 side pocket+1 waist bag
Details: The Backpack is constructed with waterproof 900D high density polyester material. Heavy duty alloy zipper. With 3 detachable molle pouches attached on front and two sides. Large cargo with a big compartment in it. Come with a hand carry strap and adjustable shoulder strap. Wide & thick waist belt, comfortable for heavy carry. With adjustable chest belt and high frequency life whistle. Package Include: 1 x Tactical Backpack (1 x Main bag, 2 x side bags, 1 x front bag)